Original image: A portrait taken in 2015 of Maksim Baidak (Salman), a Russian-born convert to Islam, in the town of Erzurum, Turkey, where he was forced into exile by Russia's anti-Muslim government policy. 
Theft: Kravets had offered the photo to Radio Liberty to be published with an online interview about her work; she discovered it several years later on a pro-government Russian website to accompany an article attacking Baidak. The website removed Kravets name and the Radio Liberty 'courtesy' watermark — crediting the photograph to "google.com." 
NFT for sale: Kravets photographs the web page with the stolen image on her iPhone, which she'd placed in a similar setting of green in a park near her home outside of Paris. 
Nemesis is part of the groundbreaking NFT series "Theft," from the prestigious documentary photo agency NOOR Image and Pix.T platform, which aims to launch a new era in photography ownership and digital rights management. Read more on the NFT series here. Read the Pix.T manifesto here. Read more about NOOR here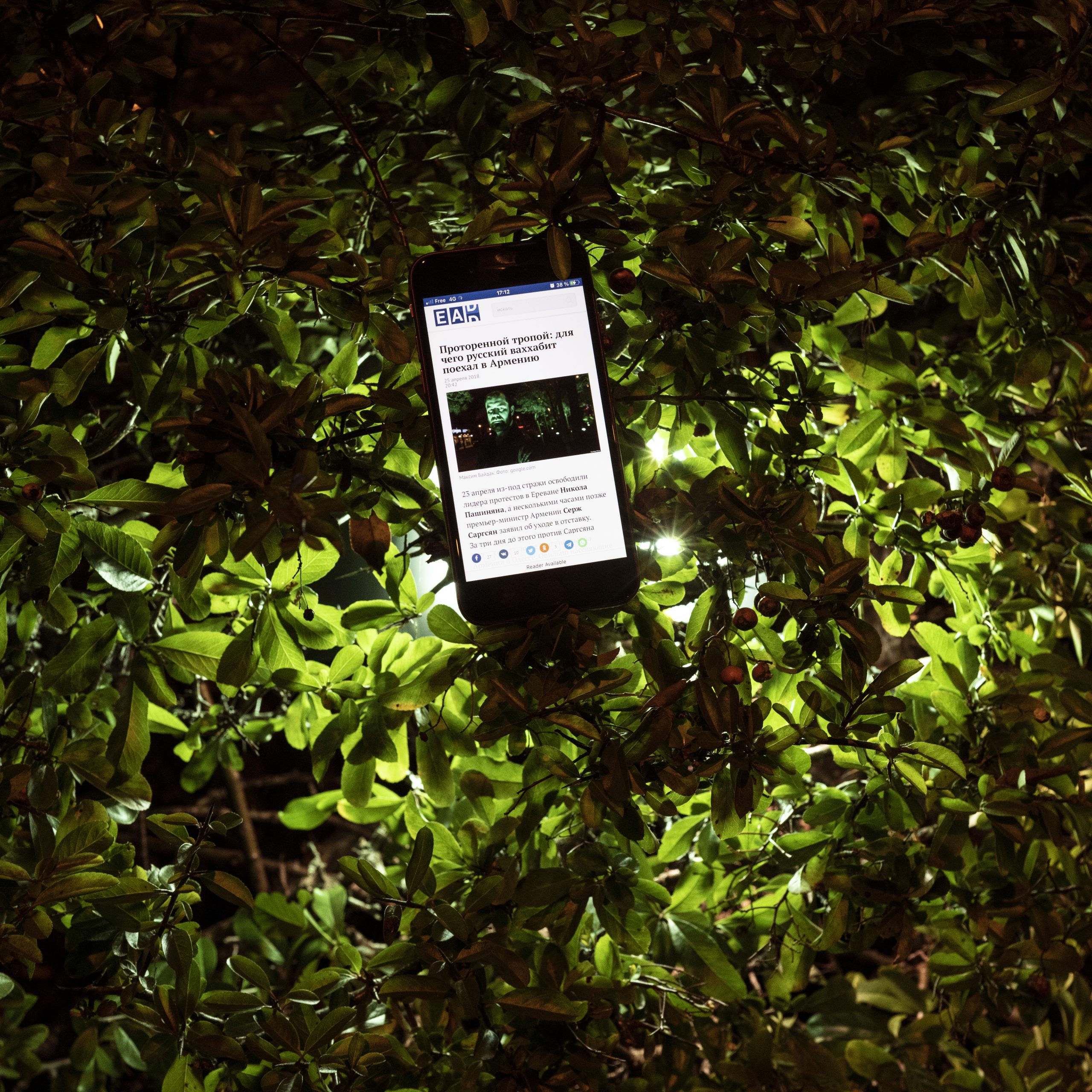 To commit to a long-term project, a photographer must be driven by something personal. It's impossible to measure the time and energy required to follow a story year after year, where the question of how or even if the work sees the light of day is never certain. 
For Olga Kravets, an ongoing seven-year project on Russian converts to Islam — including some forced into exile by anti-Muslim government policy and Islamophobic hate groups — is personal indeed. She is neither a Muslim nor a convert, but she is Russian. And since moving from Moscow to Paris in 2013, she can relate in a very personal way to the feelings of an exile. Needless to say, this daughter of a Russian mother and Ukrainian father is feeling even farther away now from her native land.
Her work on the Muslim convert story included building the trust necessary to portray the daily life of some 20 people, including Maksim Baidak (Salman), who was forced to escape to Turkey after he was put on trial for publishing a blog post. 
One portrait shot under a tree at night has a notably arresting quality, which both humanizes Salman and winks at the fear and hatred that he apparently stirs in those who have driven him from his home. Kravets would later share the image with Radio Liberty, allowing them to post it with an article about her work. 
Several years later, Kravets discovered that several pro-Kremlin websites had uploaded her portrait to accompany articles attacking Salman. The website removed Kravets name and the Radio Liberty 'courtesy' watermark — crediting the photograph to "google.com." 
"Think about it," she says, "the people who accuse him of being a terrorist, use my photo!"
To shoot her NFT image, Kravets opens the nemesis website's article and stolen image on her iPhone, which she places in a similar green setting in a park near her home outside of Paris.  
She sees the NFT series as a way to say that she is ready to help build a whole new system for managing photography online. "I'm from the transition generation, and it is up to all of us to take responsibility and find a solution for our industry. It's our work. I want to be in control, I want to know where my work is on the internet, and when someone wants to use it. If we wait for tech to do it alone, we won't be happy. They can't get into our minds to know how we see it and what our needs are."
That the sale of this NFT comes as her photojournalist colleagues are documenting Russia's invasion of Ukraine makes the need for change ever more urgent for Kravets. Olga and Salman decided to donate half of the proceeds of the sale to support work of an emerging photographer documenting the war through NOOR foundation.
"

We authors need to be part of the solution as much as the tech people

."
-Olga Kravets
Nemesis by Olga Kravets
NFT
Bid via OpenSea
View the entire Collection
THEFT
NOOR Photo Agency presents "Theft," a groundbreaking NFT sale to help launch a new paradigm of digital ownership and rights management for the professional photography market.
View the THEFT Collection