HOLDUP
by Francesco Zizola
Original image:

An abstract black-and-white image from 2017 taken by a drone, from several hundred feet above massive tuna fishing nets off the Italian island of Sardinia. 
Theft:

An online art photo gallery that had represented the photographer in the past, posted the image on their Instagram account, despite repeated demands that they take it down. 
NFT for sale

: For the NFT work, the photographer is holding up the offending Instagram post on a smartphone as he stares into his own reflection staring at the stolen image.
Holdup is part of the groundbreaking NFT series "Theft," from the prestigious documentary photo agency NOOR Image and Pix.T platform, which aims to launch a new era in photography ownership and digital rights management. Read more on the NFT series here. Read the Pix.T manifesto here. Read more about NOOR here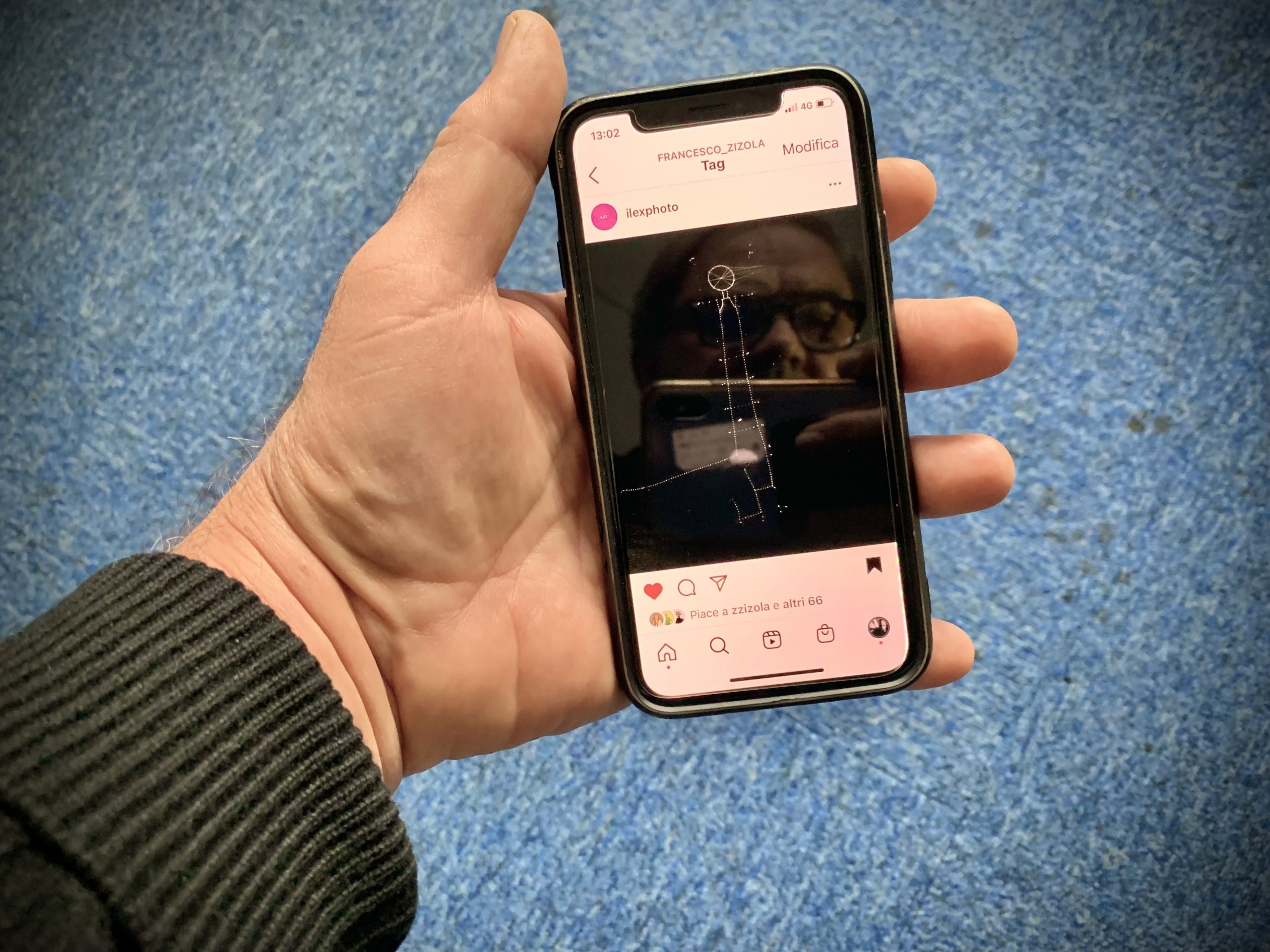 Francesco Zizola rose to prominence as a photojournalist in the analogue era of contact sheets and newspaper ink. But he's never been afraid of technology. Quite the opposite. 
He's also been acutely aware of the shifting economics of photography, forced to navigate the decline of the old media model and lucrative news assignments by entering the art photography market alongside his continued commitment to photojournalism.
Both the shifting tech and economics of photography came together in a project he pursued on the Italian island of Sardinia. There Zizola invested his time and money into a project to document the time-honored practice of tuna fishing, using advanced underwater equipment and drones to produce an immersive multimedia story. The output included a magazine feature, a book, online features and certain prints on the walls of art galleries and private homes.
One of the most intriguing images from the project, was taken with a drone several hundred feet above the complex system of nets that the tuna fishers use to bring in their catch. It is an abstract, post-modern image that tells a timeless story, with exclusive print editions listing for several thousands of dollars on the art market. 
An online photo gallery that had represented Zizola in the past, continues to post his photos on their Instagram account, despite his repeated demands that they take them down. 
For the NFT work, he's holding up the offending Instagram post on a smartphone as he stares into his own reflection gazing at the blatant holdup of his work.
Why did they steal the image even if they are no longer selling Zizola's work? To feed the social media beast, of course. High-quality work by star photographers gives credibility. It gets clicks. And likes. But it also requires professionals, who invest time and money to produce it — and need to make a living to continue doing the work. 
Zizola knows a gallery like this is just a symptom, a "little fish" in the sea of the new digital economy run by big tech. "This is part of a much bigger problem, which is simply how the profits of our work are distributed. Instagram itself is exploiting the image for its business. That's their whole model — your work in exchange for visibility. But I don't want to be an "influencer" — I'm a photographer." 
And this photographer, who has spent decades covering conflict and telling stories around the world, knows the problem isn't only economics. "This is not just about the profession, but our democratic society is also at stake."
In the meantime, even if he can't contact Instagram about the stolen image they're hosting, his lawyer will be calling the art gallery. "I also have this NFT now." 
"

With the NFT, you take something immaterial and transform it into an object

."
-Francesco Zizola
Holdup by Francesco Zizola
NFT
Bid via OpenSea
View the entire Collection
THEFT
NOOR Photo Agency presents "Theft," a groundbreaking NFT sale to help launch a new paradigm of digital ownership and rights management for the professional photography market.
View the THEFT Collection